Come run in the capital of Virginia and see for yourself why we're a Travel + Leisure Top Destination! Each of our 2020 courses will start and finish in Dorey Park in Henrico County. The timed and USA Track & Field certified courses will follow along the Virginia Capital Trail, a 10-12′ wide multi-use path that will provide a protected and scenic route. The courses will be open from Saturday, November 7 through Sunday, November 22 from 5:00 a.m. to  5:30 p.m. each day, so you can run your race when it works for you. Keep in mind that the Virginia Capital Trail will not be closed so please be aware of other trail users. In addition, there are several trail crossings on course, which are not closed to vehicular traffic. You must be prepared to stop at these intersections.
The Richmond Marathon, Richmond Half Marathon, and Allianz Partners 8k will be utilizing RaceJoy to track participant times, compile leaderboards, allow friends and family to send messages to runners, and guide participants along the course. Participants who wish to receive an official chip time are required to use the RaceJoy app to validate times. Follow these instructions to set up tracking!
Participants who choose not to use the RaceJoy app and run on the official course, will still receive a time from crossing the start/finish mat, but will not be posted in our official results. Please see the Timing FAQ page for additional information.
Bottle re-fill stations will be located every 2-4 miles. Stations are cup-less, so you must bring your own hydration device.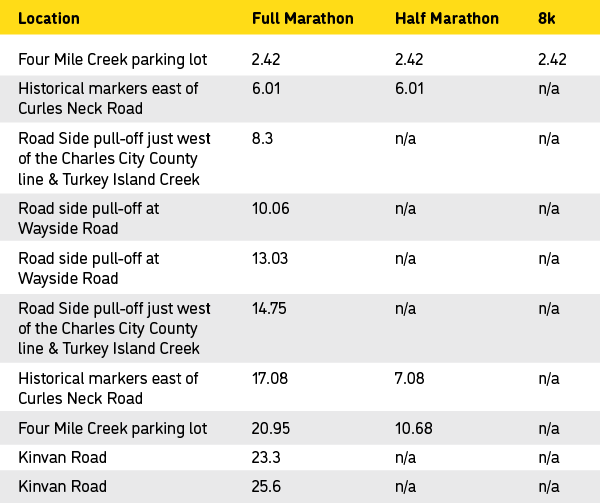 We still want you to cross the finish line with us even if it looks a little different. We might not be able to dress it up the way we usually do, but we're excited to focus on what makes our events so special, you. We have the course, we have the finish, all we need is you. Let's run Richmond! #RunRichmond