COVID-19 Update: We are looking at potential modifications and new ways of doing things in order to safely host the event on the scheduled date. This could include course updates and changes. Providing you with a measured and marked course is our goal, where and how that is done continues to be what we work on. For more COVID-19 race information, including our 2020 Peace of Mind, click here.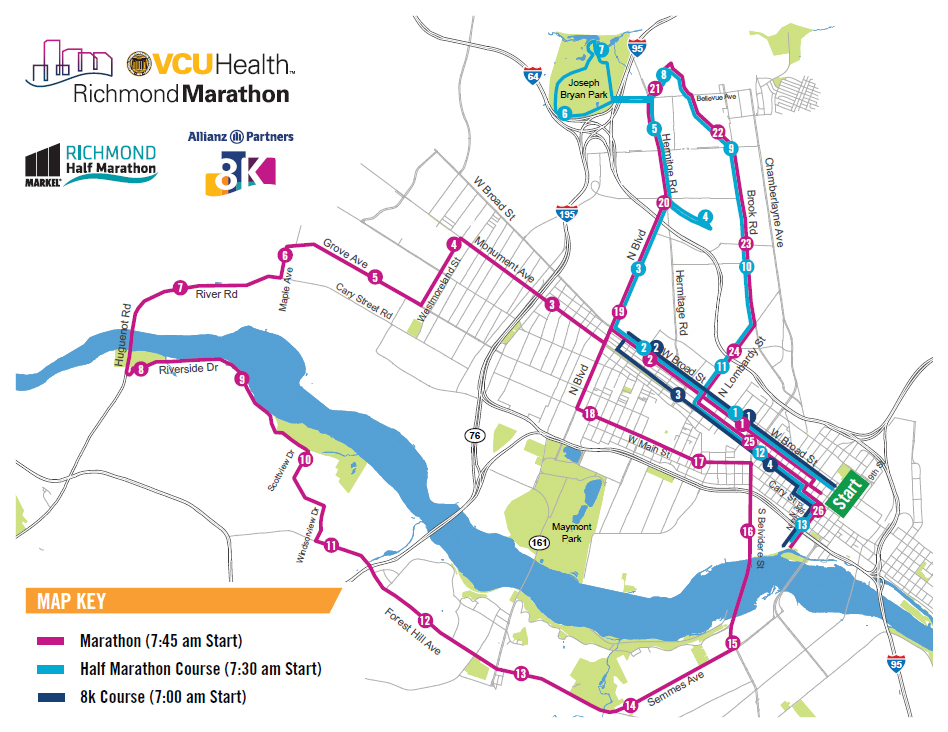 Come run in the capital of Virginia and see for yourself why we're a Travel + Leisure Top Destination! Each of our scenic courses showcases some of our city's favorite attributes. With street art, river views, historic architecture, and beautiful parks, our race routes treat runners to a unique and unforgettable tour of RVA that ends with our renowned downhill finish and CoStar Post Race Party on the riverfront!
During your race, you'll also encounter live bands, DJs, spirit groups, and Party Zones that will offer plenty of encouragement and motivation. Need an extra burst of energy? We have you covered with junk food stops, wet wash cloths, and pickle juice!* Once you cross the finish line, you'll be greeted by a well-earned celebration on Brown's Island complete with pizza and a Sierra Nevada Beer on the house!
Take some time to revel in your accomplishment, but don't let your Richmond experience end there. Whether you're a local or from out of town, there's a whole city to explore. You might just decide you don't want to leave!
*Marathon and Half Participants Only