The official Richmond Marathon course will be timed,  measured, and marked along the Virginia Capital Trail, starting and finishing in Dorey Park.
Marathon Course Information
Course open from 5:00 AM to 5:30 PM from Saturday, November 7 through Sunday, November 22
Chip timed and USA Track & Field certified course.
Course will have a shared start and finish line in Dorey Park, mile markers, Bottle refill stations every 2-4 miles, and restrooms near every bottle refill station.
The course is on the Virginia Capital Trail, a 10-12 foot wide protected, multi-use path. The trail will not be closed for the event so please be aware of other trail users.
There are several trail crossings on course, which are not closed to vehicular traffic. You must be prepared to stop when crossing these intersections.
Use the RaceJoy app to validate chip times through real-time GPS tracking
To view an interactive MapMyRun map, click here.
Download a printable Dorey Park Map. Parking will be in Parking Lot D, Parking Field D and Parking Lot B. The start and finish line will be in Event Field 1, adjacent to the Virginia Capital Trail bike art.
Bottle refill stations
Bottle refill stations will be every 2-4 miles at the following points along the route. You will be required to bring your own hydration device as these bottle refill stations will be cup-less. Stations will provide a touchless experience through the use of foot pedals. Each station will include Diamond Springs water and Nuun Strawberry Lemonade or Lemon-Lime Sport electrolyte hydration.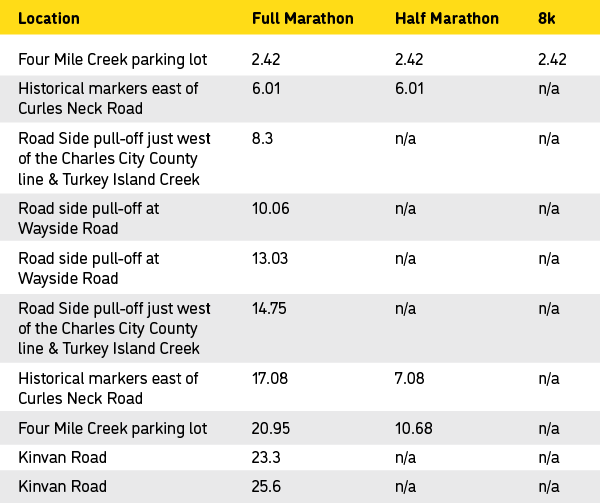 *bottle refill station locations are subject to change