The marathon course through scenic and historic sections of the city, including along and across the beautiful James River.
The marathon course is great for first-timers and features some rolling hills. The marathon is USA Track & Field sanctioned and certified and is a top Boston Qualifier.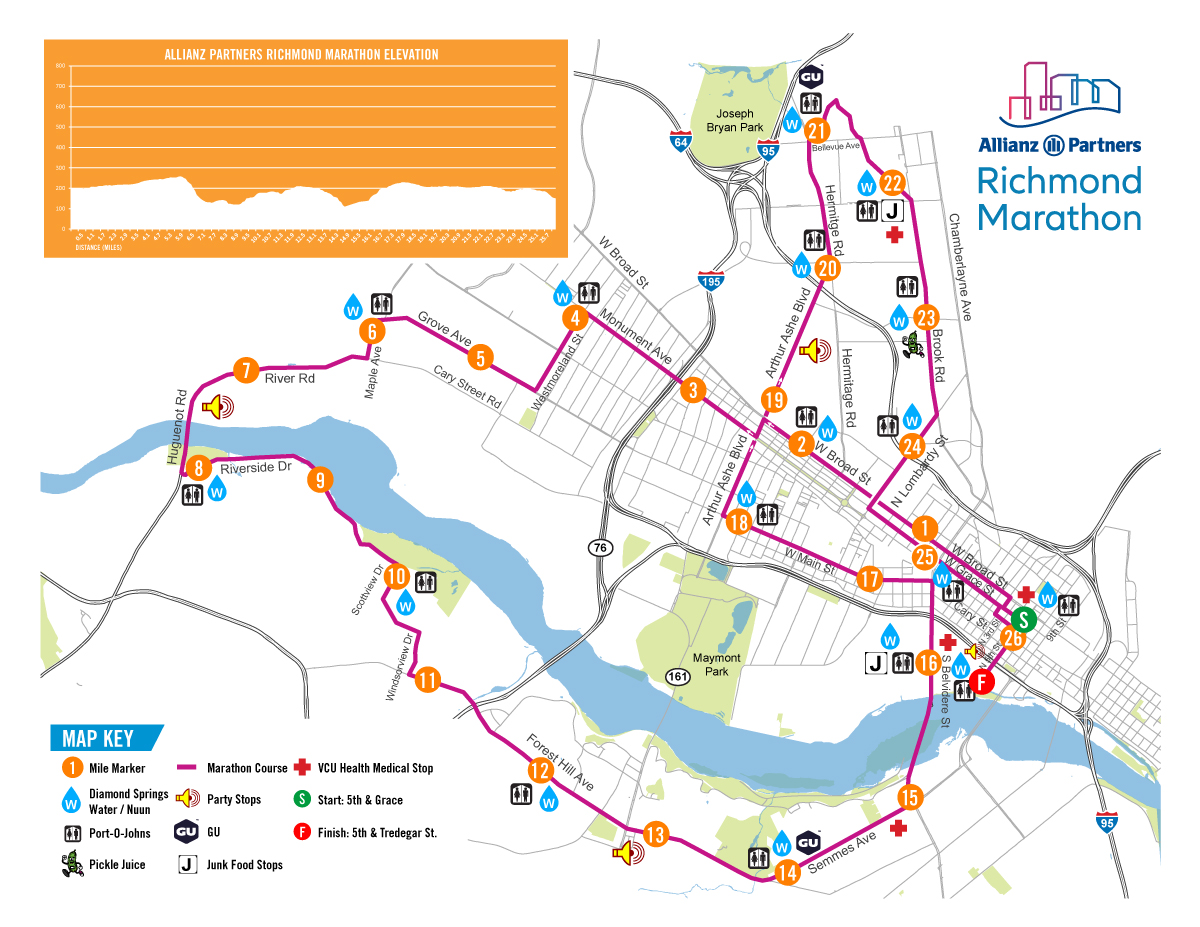 To print out a PDF version of this map, click here.
To view an interactive MapMyRun map, click here.
Click here for turn-by-turn marathon course directions.
For a combined marathon/half marathon/8k course map, click here.
Marathon Start
Grace Street at 5th (the half marathon and 8k courses start one block over on Broad Street at 7th and 8th Streets, respectively). For a map of the Start Area, click here.
Finish
All three races end on a downhill slope at 5th & Tredegar Street at Brown's Island and the Canal Walk on Richmond's beautiful downtown riverfront, site of the CoStar Post Race Party.
Marathon Course Support
Diamond Springs water: At the start and every two miles until Mile 20, then every mile thereafter
Nuun Endurance: Will be at every water stop on the course
GU energy gel (Vanilla Orange, Strawberry Kiwi, Lemonade, Sea Salt Chocolate): Miles 14 and 21
Junk Food Stops: Miles 16 & 22
Pickle Juice: Mile 23
Port-o-johns: Start/Finish and adjacent to every water stop
Medical attention: Available along the course
Course Time Limit
We encourage the seasoned and first time marathoners (including walkers) alike to take part. Our course, however, is only open for 7 hours. This requires a 16:02 per mile pace. You must pass these points by the following times in order to continue with course support:
Mile 7 – 9:45 a.m.
Mile 11 – 10:50 a.m.
Mile 16 – 12:10 p.m.
Mile 20 – 1:15 p.m.