COVID-19 Update: We are looking at potential modifications and new ways of doing things in order to safely host the event on the scheduled date. This could include course updates and changes. Providing you with a measured and marked course is our goal, where and how that is done continues to be what we work on. For more COVID-19 race information, including our 2020 Peace of Mind, click here.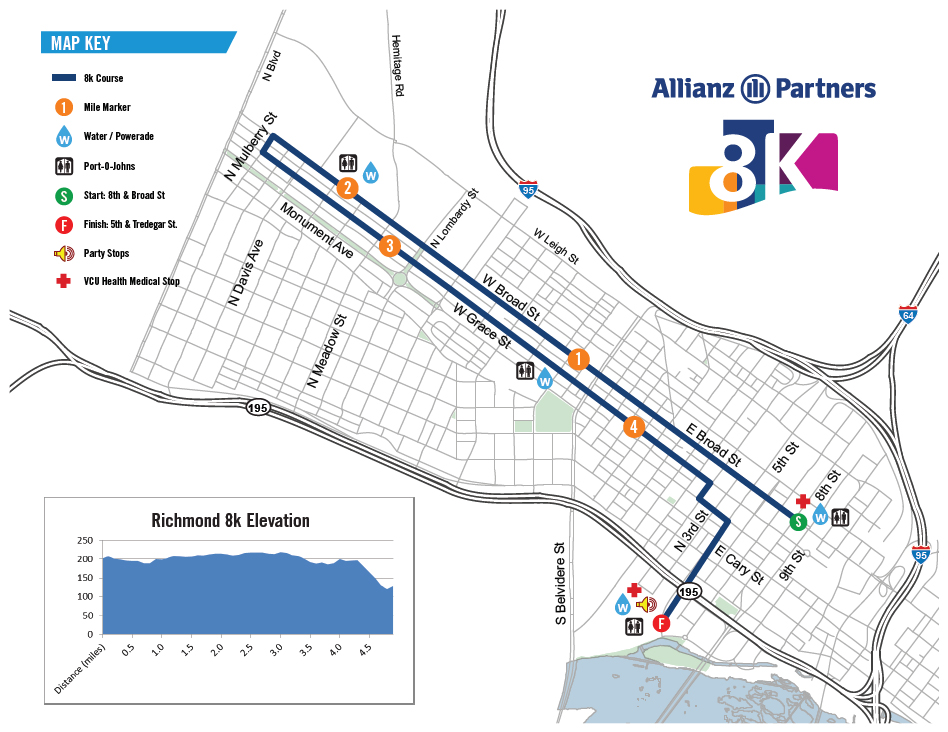 To print out a PDF version of this map, click here.
To view an interactive MapMyRun map, click here.
Click here for turn-by-turn 8k course directions.
For a combined marathon/half marathon/8k course map, click here.
8k Start
8th & Broad Streets in downtown Richmond, one block north of the start line for the VCU Health Richmond Marathon (the half marathon starts on Broad Street at 7th). For a map of the Start Area, click here.
Finish
All three races end on a downhill slope at 5th & Tredegar Street at Brown's Island and the Canal Walk on Richmond's beautiful downtown riverrfont, site of the CoStar Post Race Party.
8k Course Support
Diamond Springs water and Nuun: Miles 2 and 4 and finish. Water is also available at the start
Porta-johns: Start, Miles 2 & 4, and at the finish
Medical attention: Available along the course
The race is USA Track & Field sanctioned and certified.