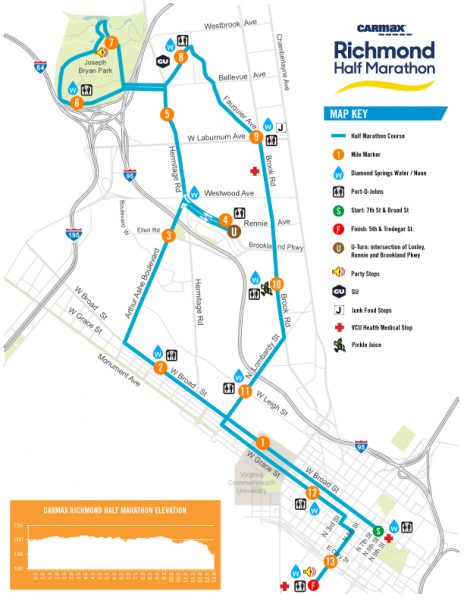 To print out a PDF version of this map, click here.
To view an interactive MapMyRun map, click here.
Click here for turn-by-turn half marathon course directions.
For a combined marathon/half marathon/8k course map, click here.
Half Marathon Start
7th & Broad Streets in downtown Richmond, one block north of the start line for the Richmond Marathon (the 8k starts on Broad Street at 8th). For a map of the Start Area, click here.
Finish
All three races end on a downhill slope at 5th & Tredegar Street at Brown's Island and the Canal Walk on Richmond's beautiful downtown riverfront, site of the CoStar Group Post Race Party.
All participants must be able to finish the half marathon in 4 hours. In order to do so, you will need to maintain a 18:19 per mile pace. The race is USA Track & Field sanctioned and certified.
Half Marathon Course Support
Diamond Springs water: At the start, Miles 2, 4, 6, and 8-12
Nuun Endurance: Will be at every water stop on the course
GU energy gel (Vanilla Bean & Strawberry Banana): Mile 8
Junk Food Stop: Mile 9
Pickle Juice: Mile 10
Port-o-johns: Start/Finish and adjacent to every water stop
Medical attention: Available along the course.
Course Time Limit
We encourage the seasoned and first time half marathoners (including walkers) alike to take part. Our course, however, is officially only open for 4 hours.